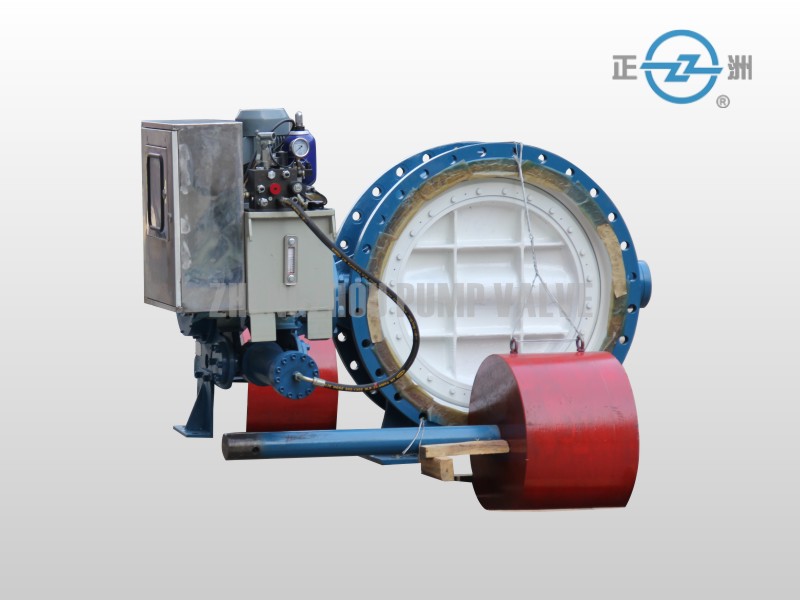 Nominal Diameter: DN150~DN3500
Nominal Pressure: PN6~PN40
Suitable Medium: Water, sea water, Sediment water, Oil and so on
Medium temperature: <<80° C
Opening valve time: 10~120 seconds( adjust)
Quick closing time: 1.5~30 seconds(adjust)
Slow closing time: 6~120 seconds(adjust)
Fast close angle: 70° ± 10°
Slow close angle: 20° ± 10°
Open state minimum flow resistance coefficient: 0.1
Optional control power: AC220V, DC220V, DC110V, DC24V
The hydraulic control butterfly valve is the most advanced pipeline control equipment at home and abroad, mainly installed in the hydro power station turbine outlet, used as a turbine inlet valve; or installed in water conservancy, electricity, water supply and drainage and other pump station pump outlet.
The valve and the pipeline work with the host, in accordance with the principle of hydraulic transition process, through the default opening and closing procedures and the effective elimination of pipeline water hammer, to achieve reliable pipeline cut off and play a protective pipeline system security role.
 Valve body
 Transmission (integrated with valve body)
 Hydraulic station (installed separately from valve)
 Electrical control box (with the hydraulic station as a whole installation)
When ordering, please specify the product name, model, specifications, maximum and minimum working pressure, medium, temperature, installation type (suits or anti-install, horizontal installation or vertical installation) and other electro-hydraulic control requirements, so that we provide a satisfactory product that meets your needs.